UK PM to unveil lockdown easing on Tuesday
Brazil deaths pass 50,000. Follow the latest updates
There are 8,918,101 known coronavirus cases globally, according to the Johns Hopkins University tracker, and 466,548 deaths.
Both figures are likely to be significantly higher in reality, due to differing testing rates and definitions, time lags and suspected underreporting.
The ten worst-affected countries in terms of number of cases are as follows:
US: 2,278,373
Brazil: 1,083,341
Russia: 583,879
India: 410,461
United Kingdom: 305,803
Peru: 251,338
Spain: 246,272
Chile: 242,355
Italy: 238,499
Iran: 204,952
Meanwhile, UK Prime Minister Boris Johnson will unveil the latest easing of Britain's coronavirus lockdown on Tuesday when he will also announce the conclusion of a review into whether a two-metre rule on social distancing should be relaxed, his office said.

Britain's economy has been hammered by the lockdown to stop the spread of Covid-19 and although non-essential retailers were allowed to reopen last Monday, many businesses, particularly in the hospitality and leisure sectors, have remained closed.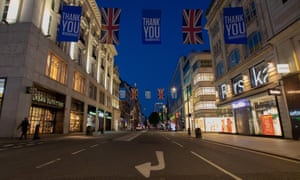 A view of Oxford Street at night and NHS Thankyou Flags on 21 June 2020 in London, United Kingdom. Photograph: Jo Hale/Getty Images
Some lawmakers in Johnson's party have been vocal in calling for him to drop the two-metre rule saying it was having a devastating impact on the economy which shrank by a quarter over March and April. But the government has been cautious, saying it did not want to risk a second spike in novel coronavirus cases.

Johnson's office said the prime minister would tell parliament on Tuesday which sectors would be allowed to reopen on 4 July under the government's roadmap out of the lockdown. Detailed guidance would be provided to each sector so businesses were "Covid secure".

The Sunday Telegraph reported that Johnson would also announce a change to the social distancing guidelines so people would only need to remain one metre apart providing they took additional measures such as wearing a mask.
China suspends imports of poultry from US-based Tyson plant over Covid-1
China's customs authority said on Sunday it had suspended imports of poultry products from a plant owned by US-based meat processor Tyson that has been hit by the novel coronavirus, Reuters reports.
The General Administration of Customs said on its website it had decided on the suspension after the company confirmed a cluster of coronavirus cases at facilities in Arkansas where a total of 481 people tested positive for the virus.
Tyson spokesman Gary Mickelson said the company was looking into the issue, adding Tyson works closely with US authorities to ensure its food is produced in full compliance with government safety requirements.
Screengrab from a video issued by Tyson Foods Inc on 28 April 2020 showing including workers wearing masks at meat processing plant during the coronavirus pandemic. Photograph: Tyson Foods Inc/Youtube
"It is important to note that the World Health Organization, the Centers for Disease Control & Prevention, USDA and the US Food & Drug Administration agree that there is no evidence to support transmission of Covid-19 associated with food," he told Reuters in an email.

China also suspended pork products from German pork processor Toennies last week following a coronavirus outbreak among hundreds of its workers.

China has stepped up its oversight of imported foods after a new cluster of coronavirus cases were linked to a sprawling wholesale food market in the capital just over a week ago.

Beijing began testing meat, seafood and fresh produce for the coronavirus last week and some ports were opening all containers of meat to carry out coronavirus tests. On Friday, customs asked food exporters to sign a declaration that their produce is not contaminated by the virus.