Newly developed military technologies 'have no equals in the world', strongman president says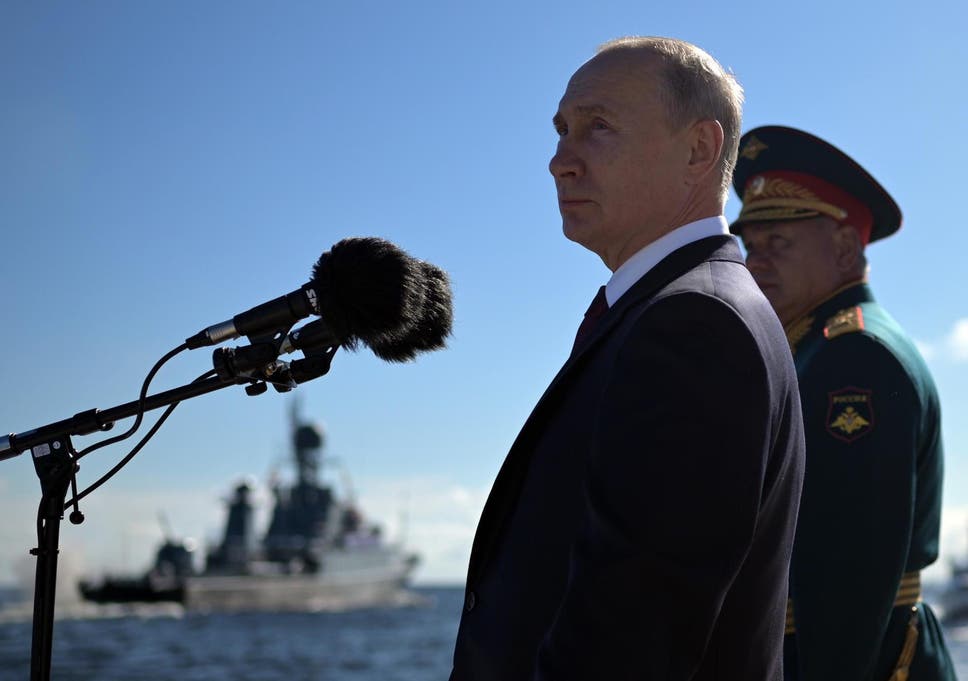 Vladimir Putin has said Russia's navy will be equipped with hypersonic nuclear strike weapons and underwater drones – implying the country was drawing close to deploying the technologies.
The Russian premier has repeatedly spoken of his wish to develop a new generation of nuclear weapons that can be targeted anywhere on the planet.
While western experts have questioned just how advanced Moscow's military developments are, the nation's defence ministry has said the weaponry is now in its final testing phase.
The weapons include the Poseidon underwater nuclear drone, designed to be carried by submarines, and the Tsirkon (Zircon) hypersonic cruise missile, which can be deployed on surface ships.
The manoeuvrability of hypersonic missiles, which travel at five times the speed of sound, make them difficult to trace and intercept.
Speaking in St Petersburg at an annual naval event, Mr Putin said the fleet would be bolstered by 40 new vessels in the coming year.
And while he did not make clear when the military would receive its new hypersonic weapons, he suggested that day was drawing closer.
"The widespread deployment of advanced digital technologies that have no equals in the world, including hypersonic strike systems and underwater drones, will give the fleet unique advantages and increased combat capabilities," Mr Putin said.
In a separate statement published through Russian news agencies, the defence ministry added that testing was underway for its Belgorod submarines, the first with the capacity to carry Poseidon drones.
The test cycle was nearly complete, the ministry said. "Work is being successfully completed to create modern weapons systems for the vavy," the statement reportedly said.
The Kremlin announced its first regiment of Avangard hypersonic missiles was put into service two days after Christmas 2019.
At the time Mr Putin said the development of the technology meant the West was "playing catch-up", adding: "Not a single country possesses hypersonic weapons, let alone continental-range hypersonic weapons."
Additional reporting by agencies