French President Emmanuel Macron and Nigerien Preisdent Mahamadour Issoufou pledge to continue 'unwavering' fight against terrorists
Kate Ng, Independent (UK), August 10, 2020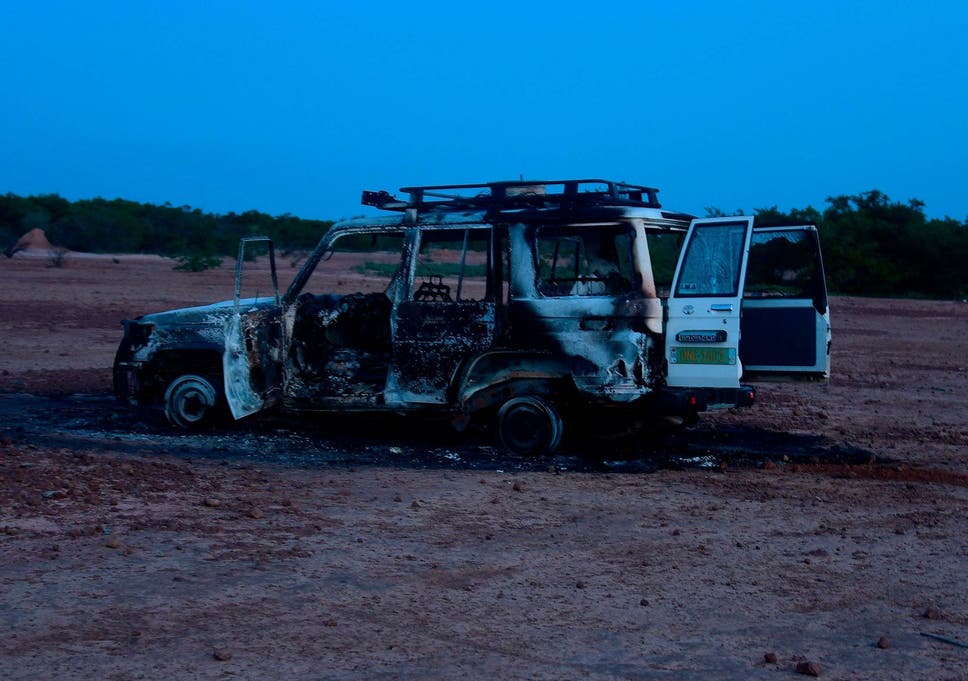 Six French aid workers and two Nigerien guides were shot dead at a wildlife park near Niger's capital in what officials believe was a terrorist attack.
The leaders of both France and Niger have expressed their condolences to the victims' families and pledged to continue fighting against terrorism.
President Mahamadou Issoufou of Niger said in a statement: "I condemn this cowardly and barbaric terrorist attack perpetrated this Sunday in the peaceful town of Koure.
"I extend my condolences to the President Emmanuel Macron, whose commitment to our side in the fight against terrorism is unwavering."
Mr Macron added: "Our countries are affected, but our determination to fight armed terrorist groups remains intact. The fight continues."
The attack took place in a protected national park where a giraffe reserve attracts hundreds of people each year. The park is in the Tillaberi region, where jihadists linked to the so-called Islamic State killed four US soldiers and five Nigeriens in 2017.
The region has been under a state of emergency since 2017.
In May this year, local authorities said at least 20 people were killed in attacks by gunmen on several villages in the region. The attackers then reportedly looted shops, stole cattle and ordered residents in the villages to flee.
French citizens have been warned against travelling outside of Niger's capital, Niamey, as militants linked to Boko Haram, Islamic State and al-Qaida continue carrying out attacks across the nation.
France has deployed 5,100 soldiers to helps fight the growing insurgency in the Sahel region, where violence linked to terrorist groups is on the rise, and a local Sahel force made up of soldiers from Mali, Niger, Burkina Faso, Chad and Mauritania has also been fighting against jihadists.
Mr Macron is to hold a defence council meeting on Tuesday focusing on the situation in Niger.
Additional reporting by PA