Bengaluru police open fire on protesters as state minister says force had been given 'free hand' to deal with situation
Rory Sullivan, Independent, August 12, 2020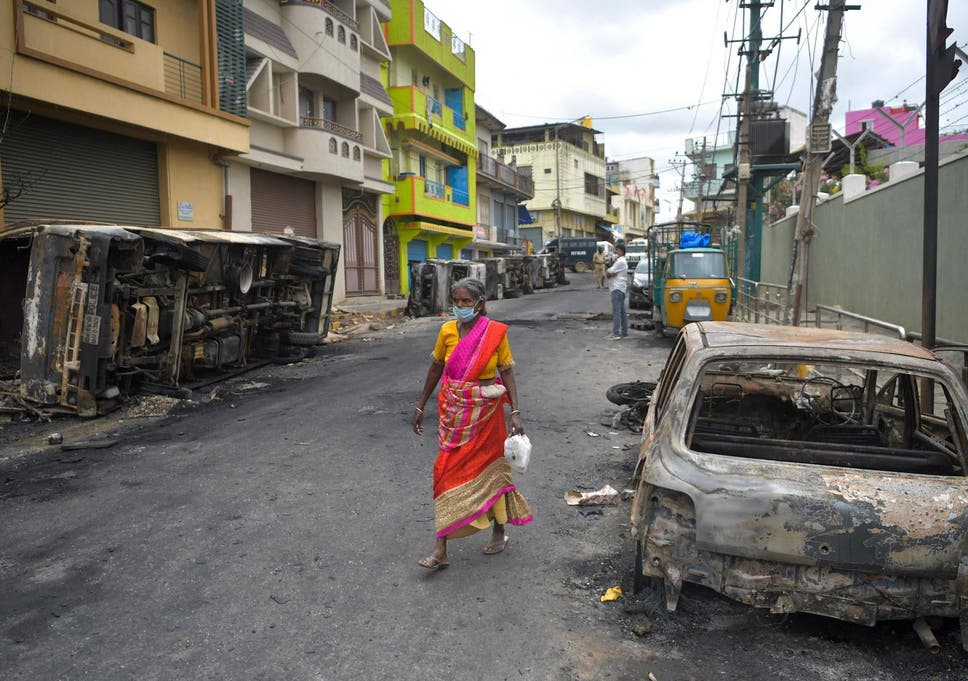 Three people have died in India during protests that were sparked by a Facebook post insulting the Prophet Mohammed.
A senior police official confirmed that there were three fatalities after officers opened fire on demonstrators in the southern city of Bengaluru (formerly Bangalore) on Tuesday.
The deaths came after thousands of people had taken to the street over an Islamophobic meme shared on social media by the account of a nephew of local Congress party politician R Akhanda Srinivas Murthy.
Murthy was not at home during the protests, the Indian Express reported, but he later appealed to his "Muslim brethren" for calm in a video shared on social media.
Footage on TV channels showed one group of demonstrators attempting to enter a police station and another setting fire to several vehicles along a road.
Bengaluru City Police said on Twitter that officers used live ammunition to break up the crowd, after tear gas and batons had failed to disperse the group.
R Ashok, a state minister, told a TV channel that "​local police have been given a free hand to deal with the situation".
In a tweet, Kamal Pant, a police commissioner, said that 110 protesters were detained for allegedly attacking the police and for vandalism during the protests.
He added that the person who allegedly shared the "derogatory" message on social media, which was later deleted, had also been arrested.
"The accused has stated that his account was hacked and he was unaware of uploading the derogatory post," a senior police officer said.
Politicians called for calm, with Congress Party lawmaker Dinesh Gundu Rao writing on Twitter: "What was written about the Prophet is the working of a sick mind with an intention to create violence.
"It is highly objectionable and such statements about any person revered by any community needs to be handled in the strictest way possible by the authorities," he said.
Additional reporting from Reuters