NEW DELHI— Haneefa, 38, was going about her daily routine in her small barbecue shop in New Delhi's Jehangirpuri suburb when the bulldozers arrived.
For the next few hours, it was a frenzy.
Amid cries and wails of residents, the authorities backed by the ruling Hindu nationalist Bharatiya Janata Party demolished several shops, kiosks and a mosque front. Haneefa's shop was razed to the ground too. India's national media live broadcast the demolition drive, which according to the government was aimed at removing "illegal encroachments" in the national capital. But for residents, it was another in a series of drives that BJP-led governments across Indian states have initiated against Muslims they accuse of "instigating riots."
"We didn't receive any notice for the demolition," Haneefa told ReligionUnplugged.com. "They (the police) came all of a sudden and started dismantling our shops with bulldozers. We are targeted for our faith.
"I lost my cooking stove and skewers. My shop has been dismantled. I don't have any means of livelihood now."
Dozens of other Muslim properties have been demolished in similar "anti-encroachment" drives in recent weeks in New Delhi and the BJP-ruled states of Madhya Pradesh and Gujarat. The demolitions follow Hindu-Muslim violence that has erupted amid Hindu festivals, where deities are sometimes paraded through the streets in public celebrations. Processions of Hindu devotees brandishing sticks and knives, playing incendiary music and raising provocative anti-Muslim slogans marched through Muslim neighborhoods in several cities on the festival day, which led to violence in many places.
"It was our fast-breaking time," said Dilshad, a 25-year-old factory worker who witnessed the violence in Delhi. "They (the mob) came shouting and abusing and rampaged through our colony. Thereafter, there was a clash with both sides throwing stones at each other."
Some critics of the right-wing government have argued it's the beginning of a genocide — or at least a worsening pattern of violence against the Muslim community in India, which makes up 14% of the population.
"The intention has always been to normalize hatred by demonizing a community," Pawan Khera, national spokesperson of the opposition Indian National Congress, told ReligionUnplugged.com.
Videos of Hindu mobs vandalizing mosques have been met with outrage on social media.
However, the Madhya Pradesh, Gujarat and Delhi governments have blamed the violence on Muslims and justified the bulldozing of their properties.
"If Muslims carry out such attacks then they should not expect justice," said Narottam Mishra, home minister of BJP-ruled Madhya Pradesh, where at least 45 Muslim properties were razed to the ground. Mishra's comments were broadcast on NDTV, India's top news channel.
"We will turn those homes to a pile of stones, from where stones were pelted," he told the media, in a discernible reference to Muslims.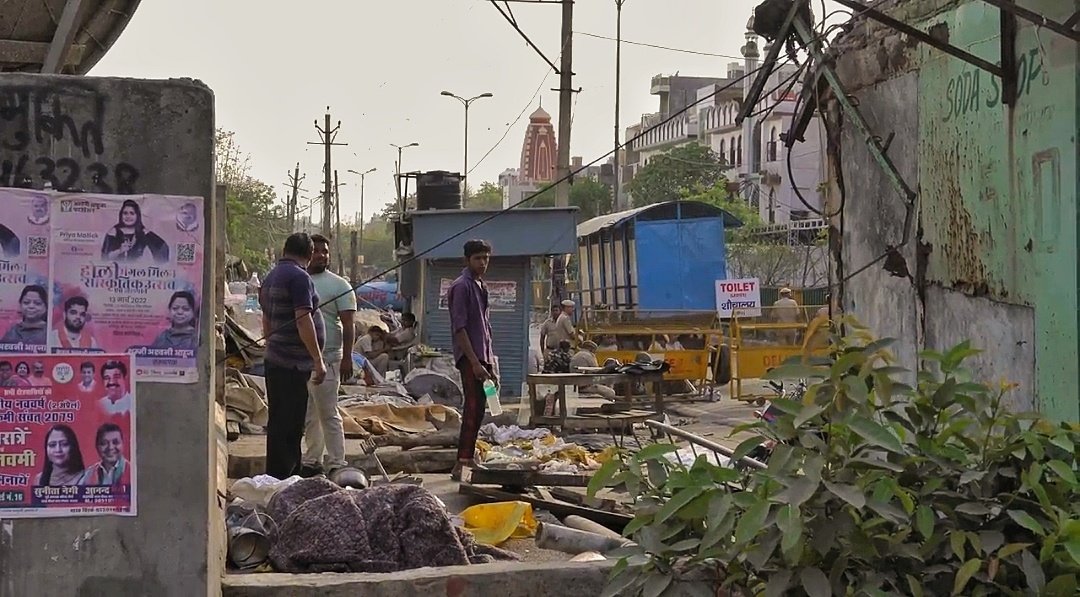 Collective punishment for Muslims?
Critics of the ruling BJP view the demolitions as another attempt of collective punishment for the country's largest minority group, which has been increasingly marginalized ever since the BJP, led by Prime Minister Narendra Modi, came to power in 2014.
"In an area where there is communal tension, why is government suddenly planning to bring in bulldozers and create more community tension?" asked Krishnan, who is also a member of the opposition party CPIML Liberation. "You are not even allowing protests in that area, you are not even allowing political demonstration in that area on the pretext of communal tension. Why are you allowing bulldozers then?
"Arbitrarily punitive demolition of this kind using (a) bulldozer as an extrajudicial threat or extrajudicial punishment should be absolutely unacceptable," she told ReligionUnplugged.com.
Muslims have faced a spike in attacks, hate speech and harassment since the BJP came to power in 2014.
The government over the last eight years has passed several controversial laws that are seen as anti-Muslim and a threat to the secular ethos of the country. Hindu right-wing mobs have lynched Muslims on the pretext of eating or transporting cows, which are revered in Hindu traditions. Muslims have also been jailed in cases of "love jihad,"a conspiracy theory that accuses Muslim men of luring Hindu women into marriage with the aim of converting them to Islam. Hindu monks and religious leaders have called for mass killing of Muslims in various gatherings across the country.
More recently, Muslim girls wearing a hijab were banned from entering their classrooms in the southern state of Karnataka, governed by the BJP. The courts then upheld the decision of the government.
Experts have already sounded a "genocide" alert in the country.
Gregory Stanton, the founder of Genocide Watch, last year in a U.S. congressional briefing predicted an impending genocide in India. "We are warning that genocide could very well happen in India," he said. Stanton had earlier rightly predicted genocide against Tutsis in Rwanda.
"What aggravates the situation is that even institutions like (the) judiciary are also being indifferent to the plight of Muslims," said Maaz Rashid, a Muslim research scholar based in New Delhi. "A full scale genocide seems to be looming ahead as state along with all the institutions seem to be complicit in dealing with violence against Muslims in the country."
Hanan Zaffar is a journalist covering India and Indian administered Kashmir. He has reported extensively on South Asian politics, Kashmir conflict and Indian minorities for organizations like VICE, Al Jazeera, DW News, Newsweek, Middle East Eye, TRT World, The New Arab, The Diplomat, Caravan Magazine and other national and international organizations. He can be found mostly roaming in the alleys of Delhi and Kashmir.