Nigerian female singer and Afro-beat queen, Tiwa Savage, has deleted hundreds of her posts on Instagram without giving a reason for her action.
Savage only left four of her posts undeleted. The posts left undeleted are those promoting her proposed tour of North America; Toronto, Canada and Europe.
The tour of North America beginstoday Sunday, May 15 in New York.
The musical tour is to further promote her song, 'Water and Garri.'
Tickets for her tour of Toronto, Canada begins on June 19. Tickets for the tour have already been sold out.
Released in August 2021, the five-track Water & Garri is the singer's second EP after 2017's Sugarcane. It was released by Universal Music South Africa and boasts the international hit 'Somebody's Son' featuring American R&B star Brandy.
Other guests on Water & Garri include fellow Nigerian R&B and Afro-fusion artists Tay Iwar and Rich King, Ghana's Amaarae and veteran US rapper Nas.
Full tour of Water & Garri dates
May 15 – New York, NY – Warsaw
May 20 – Edmonton, AB – Union Hall
May 22 – Vancouver, BC – The Commodore Ballroom
May 25 – Seattle, WA – Nuemos
May 27 – San Francisco, CA – August Hall
May 29 – Los Angeles, CA – The Roxy Theater
May 31 – Denver, CO – Marquis Theater
June 2 – Dallas, TX – Echo Music Hall
June 3 – Houston, TX – White Oak Music Hall
June 5 – Atlanta, GA – The Loft
June 9 – Chicago, IL – The Promontory
June 10 – Minneapolis, MN – Varsity Theater
June 12 – Columbus, OH – King of Clubs
June 15 – Silver Spring, MD – The Fillmore
June 16 – Philadelphia, PA – Underground Art
June 17 – Montreal, QC – The Corona Theatre
June 19 – Toronto, ON – Longboat Hall
For the Europe tour, Savage will begin her concert in Porto, Portugal on June 24
See tour dates below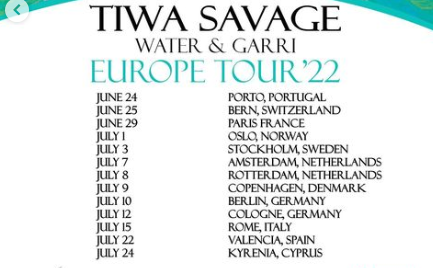 PMNews