Growing scientific evidence suggests that Monkeypox is being spread via sexual intercourse between men, as opposed to skin-to-skin contact as stated by public health officials.
According to a report by NBC News, a string of scientific studies and reports from health authorities across the globe in recent weeks indicate that the narrative of public health experts may be "precisely backward."
"A growing body of evidence supports that sexual transmission, particularly through seminal fluids, is occurring with the current MPX outbreak," Dr. Aniruddha Hazra, medical director of the University of Chicago Sexual Wellness Clinic, told NBC.
NBC cited a Medium essay by Dr. Lao-Tzu Allan-Blitz, a resident physician in global health at Brigham and Women's Hospital in Boston, in which he writes that there is "mounting evidence that sexual transmission is the most common mode of transmission" across the United States and Europe.
The essay noted that monkeypox, which up until now was endemic to Central and West Africa, is largely being transmitted through anal and oral intercourse between men.
Allan-Blitz told NBC: "It looks very clear to us that this is an infection that is transmitting sexually the vast majority of the time."
According to the World Health Organization (WHO) men who have sex with men are still those who are overwhelmingly affected by monkeypox, with 96.9 percent of those who have contracted the virus identifying as men who have sex with men.
Transmission Through Sexual Activity
More than three quarters, approximately 76.5 percent, of global monkeypox cases are among men 18 to 44 years old.
Overall as of Aug. 17, there have been a total of 37,736 laboratory-confirmed cases of monkeypox, and 179 probable cases, including 12 deaths, reported to WHO.
NBC also cited a study (pdf) published July 28 in the British Medical Association's journal, which found that among the 197 monkeypox cases examined in London men, 56 percent had lesions in the genital area and 42 percent had them in their anorectal regions.
A separate study published July 21 in The New England Journal of Medicine, found that among the 528 infections diagnosed between April 27 and June 24, 2022, 98 percent were in gay or bisexual men.
"Transmission was suspected to have occurred through sexual activity in 95 percent of the persons with infection," the study states, and 73 percent had anogenital lesions.
Elsewhere, a study published in the Lancet on Aug. 8 examined 181 monkeypox cases in Madrid and Barcelona, Spain, of which 92 percent of patients identified as gay men, bisexual men, or other men who have sex with men. That study found that "participants reporting anal-receptive sex were more likely than others to have early systemic symptoms before developing skin lesions."
"One explanation is that anal sex might damage the epithelium [a very thin layer of tissue] and enable blood entry, allowing greater viraemia at an early stage when local lesions have not yet developed," researchers wrote.
As a result of the growing evidence which supports that Monkeypox is predominantly being spread through sexual intercourse between men, scientists told NBC that the Centers for Disease Control and Prevention (CDC) and other public health authorities need to update their communication strategies regarding the virus to "more strongly emphasize the centrality of intercourse among gay and bisexual men."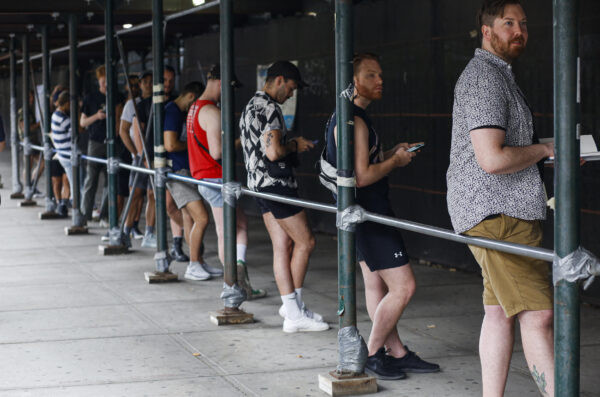 WHO, CDC Narrative
Currently, the CDC and the WHO state that Monkeypox can be transmitted via "close, personal, often skin-to-skin contact" which includes contact with fabrics such as clothing or bedding that have been used by someone with the virus, as well as contact with respiratory secretions.
Despite the mounting evidence, the WHO says it's too early yet to know if the virus is predominantly transmitted through intercourse.
"Completely reading the situation as uniquely due to anal or oral sex is highly likely to be overreach," Dr. Rosamund Lewis, technical lead for monkeypox at the World Health Organization, told NBC News. "The correlation may appear to be strong, but that does not explain the whole picture of disease caused by this virus. So we need to keep an open mind."
The latest report comes amid a shortage of Monkeypox vaccines amid a surge in cases.
On Thursday, vaccine maker Bavarian Nordic warned it was no longer certain it would be able to meet demand as cases of the virus continue to surge across the globe, even with an upgrade to its existing manufacturing site in Denmark.
As a result, the Denmark-headquartered company is now looking into transferring its technology to a third-party producer in the United States in an effort to enable bulk production.
First published in Epoch Times, https://www.theepochtimes.com/growing-evidence-indicates-sex-between-men-is-fueling-monkeypox_4675114.html?utm_source=newsnoe&utm_campaign=breaking-2022-08-19-1&utm_medium=email&est=0UkgSVlDV5U1O%2FRoB%2F0IvUoetrxzrWzna1xrpP19kikhtvd2yOmXtxUP7Qk%3D