Bello Turji, the terrorists/bandits kingpin who narrowly escaped being killed in the bombings by Nigerian Air Force (NAF) fighter jets on his enclave located at Fakai in Shinkafi Local Government Area (LGA), Zamfara State, Northeast Nigeria, has resurfaced wearing a Police uniform.
He was also armed, along with aides.
The NAF, acting on intelligence on the convergence of terrorists and other bandits at Turji's home, bombed the locations using two fighter jets, on Saturday afternoon, killing at least 12 people.
Turji, a notorious a terrorist leader has been terrorizing communities of Zamfara and Sokoto States.
A resident of Fakai revealed, who reconfirmed that Turji is alive said on Monday: "We met him in this morning paid our condolences. If not he will revenge on us."
According to a post by Zagazola Makama, Security Analyst and Counter Insurgency Expert for Lake Chad, West Africa, "shortly after the attack on Bello Turji's home by the @NigeriaAirforce
in Fakai, Zamfara State, the terror kingpin appeared with new look in Mopol Uniform."
Makama, faced with skeptics on the authenticity of the photos and reports, wrote under on his Twitter handle @ZagazOlaMakama: "We are insisting that this photos was shot before the Airstikes and after the Airstirkes. We insisted that the photos were not old and the news was not fake. They were shots in the scene of the recent Airstikes in Turji's House in Fakai."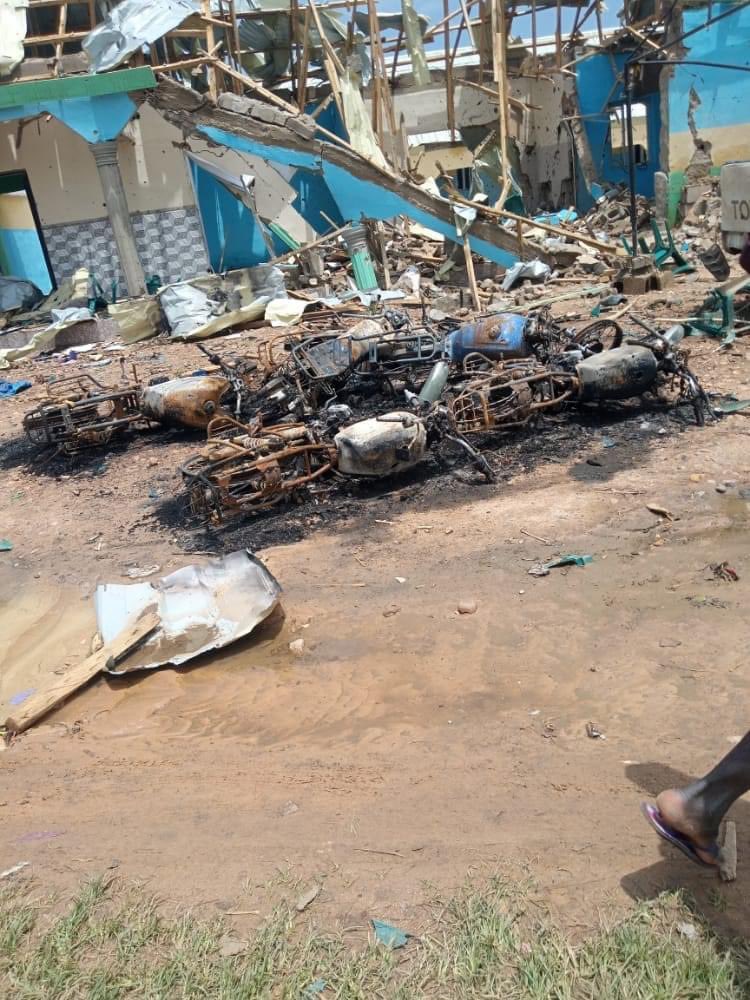 The crowd was said to have gathered for the naming ceremony of a baby born to Turji. But the terrorists' kingpin and most of his close associates escaped the attack, having left the spot to observe the afternoon prayer (zuhr) just before the strikes.
"He (Turji) directed that they should observe the prayers. Those who didn't leave for the prayers were hit by the bombs," said a source.
The escape on Saturday was the second time the terror bandit leader had escaped such an assault. In December 2021, a NAF bomb targeted at his camp hit some of his fighters, wounding many and killing at least one person. The bomb was said to have been dropped moments after Turji had left his house.