One of Nigeria's first generation of Nigerian Army officers, Lieutenant General Parick Anwunah, is dead.
Colonel Anwunah died in Enugu, Enugu State, where he relocated at the end of the Nigeria-Bafra war of which he was an active participant on the side of Biafra.
Sources said that Anwunah, who later became a lawyer, died about four days ago.
After the first military coup of January 15, Colonel Anwunah was appointed the Head of the Army's Intelligence Unit as the General Staff Officer for Intelligence (I) at Army Headquarters, Lagos.
Apart from his military duties, he was a also member of late Head of State, Major General Johnson Thomas Umunnakwe Aguiyi-Ironsi's advisory team, including Francis Nwokedi, Pius Okigbo.
At the outbreak of the civil war, like most Nigeria Army-trained senior officers from Eastern Region, Colonel Anwunah returned to the Biafra Army where he was the Adjutant General and one of the top Commanders.
He was one of the top Biafran officers who met with then Head of State, General Yakubu Gown, and accepted the authority of Nigeria over Biafran territory.
This fact was accepted by Gowon in his 'The Dawn of National Reconciliation'speech of January 15, 1970 in which he stated: "It is with a heart full of gratitude to God that I announce to you that today marks the formal end of the civil war. This afternoon at Dodan Barracks, Lt. Col. Phillip Effiong, Lt. Col. David Ogunewe, Lt. Col. Patrick Anwunah, Lt. Col. Patrick Amadi and Commissioner of Police, Chief Patrick Okeke formally proclaimed the end of the attempt at secession and accepted the authority of the Federal Military Government of Nigeria."
Colonel Anwunah was Gowon's senior in the Nigerian Army. Anwunah was commissioned as N/18. Gowon became N/20. Madiebo N/21. Like Madiebo and Anwunah wrote a book on the Civil War.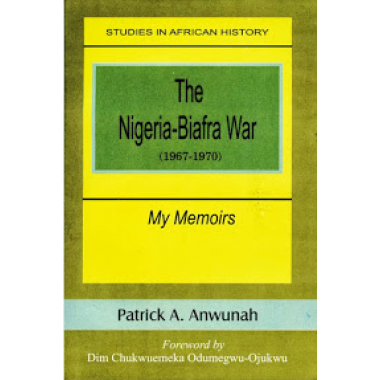 The memoir, titled 'Nigeria-Biafra War (1967-1970)' had the foreword written by late Biafrna leader, Dim Chukwuemeka Odumegwu-Ojukwu.