A Nigerian Army soldier serving under the 156 Task Force Battalion, Operation Hadin Kai located in dake Mainok has been arrested for stealing and supplying military ammunition to terrorists and bandits in the region.
The soldier, Iorliam Emmanuel, who hailed from Benue State, allegedly has been in the business of stealing and selling ammunition to criminal gangs suspected to be terrorists and bandits.
The ammunition were usually sown unto his uniform.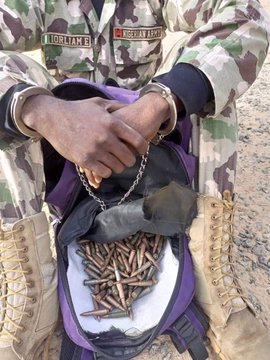 According to Zagazola@ZagazOlaMakama, Security Analyst, Counter Insurgency Expert, LakeChad & West Africa, "Another Suspect apprehended Iorliam Emmanuel is working under the 156 Task Force Battalion dake Mainok, Operation Hadin Kai.
"The soldier who hailed from Benue State usually steal ammunition and supply to criminal gangs suspected to be bandits. He would face the full wrath of the law."