The tech company is struggling to retain workers after Musk demanded employees sign a pledge to work 'long hours at high intensity'
Twitter closed its offices until Monday, November 21, according to an official statement to staff.
The company did not give a reason for the decision but reports are there are simply too many people quitting.
Elon Musk was quoted to say that "the best people are staying" and he isn't "super worried."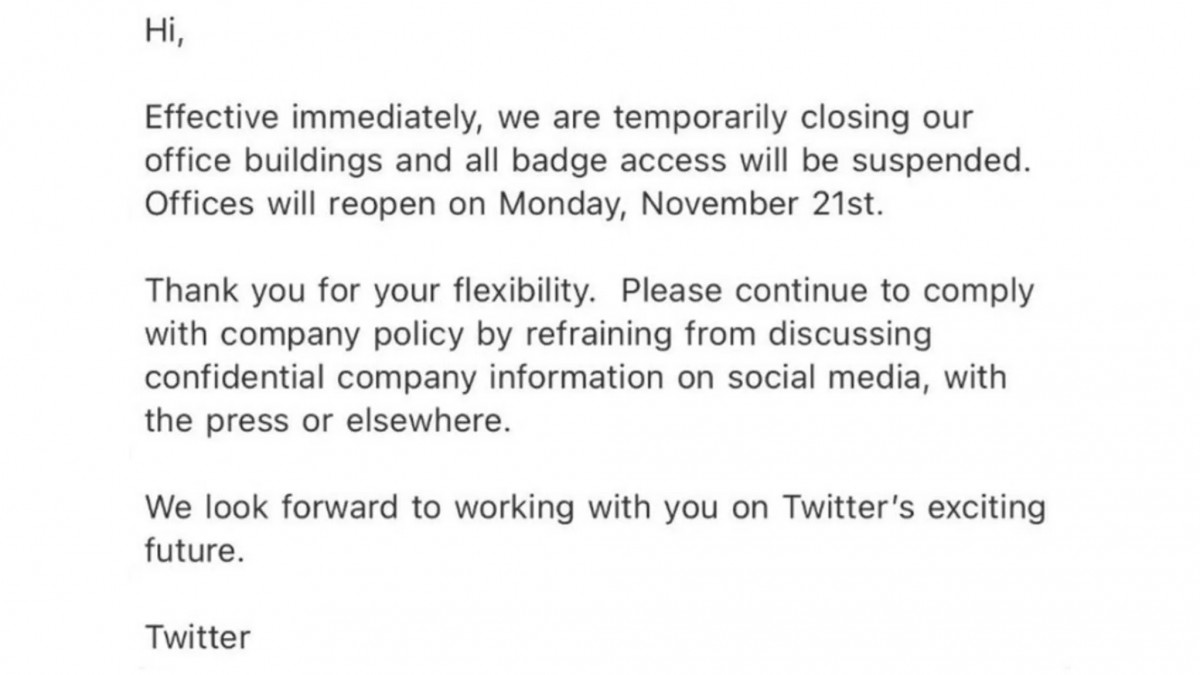 Message sent to Twitter staff
Musk's plans to make Twitter more financially stable included selling a blue Verified tick to anyone willing to pay $8 per month, as well as terminating half of the workforce to try and minimize expenses.
Twitter staff had time until yesterday, November 17, to sign a pledge for long hours or leave with three months' severance pay. Former employees are tweeting that anywhere between 74% and 90% of the workforce decided to go for the compensation instead of being "extremely hardcore" and returning to the office.
One former worker told BBC they expect less than 2,000 people to stay, which is about a fourth of the initial workforce of 7,500. They also revealed their whole team has been terminated, while another employee stated:
I didn't want to work for someone who threatened us over email multiple times about only 'exceptional tweeps should work here' when I was already working 60-70 hours weekly".
Later, the new owner and CEO went on his usual tweeting bender, saying in order to make a small fortune on social media, you should start with a large one, then he followed by revealing Twitter hit a new all-time high in usage, then he posted a pirate flag emoji, and ended with a grave meme, depicting Twitter celebrating the death of Twitter.
Meanwhile, as the company temporarily closed its offices to staff, Twitter users began saying their goodbyes and linking to accounts on other platforms.
#RIPTwitter, #TwitterDown, Mastodon and Myspace were all trending on the platform after the deadline passed on Musk's ultimatum for the remaining workforce to sign up for "long hours at high intensity", or leave. It has been estimated that hundreds of the remaining staff opted to go.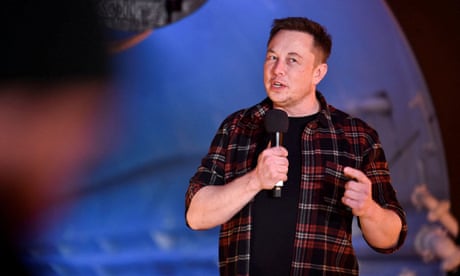 The departures include many engineers responsible for fixing bugs and preventing service outages, raising questions about the stability of the platform amid the loss of employees and prompting hurried debates among managers over who should be asked to return, current and former employees said.
In an early sign that the number of those declining to sign was greater than anticipated, Musk eased off a return-to-office mandate he had issued a week ago, telling employees on Thursday they would be allowed to work remotely if their managers asserted they were making "an excellent contribution".
Twitter later announced via email that it would close "our office buildings" and disable employee badge access until Monday, the New York Times reported.
Online, users were speculating that the site could go down in a matter of hours or days.
On Thursday evening, the version of the Twitter app used by employees began slowing down, according to one source familiar with the matter, who estimated that the public version of Twitter was at risk of breaking during the night. Website DownDetector reported a significant uptick in user reports of issues on the site.
"If it does break, there is no one left to fix things in many areas," the person said, who declined to be named for fear of retribution.
The news prompted an outpouring of grief on the platform, and prompted many users to link to their accounts on Instagram or Mastodon as an alternative.
US representative Alexandria Ocasio-Cortez tweeted she could be found on Instagram or on email.
She followed up with a tweet saying those employees who built the company deserved better. "Shout out to all the workers at Twitter. You all built a vital place for connection and deserved so much better," she said.
Official government accounts also began providing means of being found elsewhere.