3 soldiers arrested over incident thought linked to snatching of body of teenage Druze car crash victim Tiran Fero by Palestinian gunmen; no injuries or damage reported
A number of Israel Defense Forces soldiers were arrested Monday on suspicion that they hurled an explosive device at a Palestinian home near Bethlehem in the West Bank overnight, the army said in a statement.
There were no reports of injuries or damage.
Though the military gave no further details, Hebrew media reports said the three soldiers involved were all from the Druze community, raising suspicions that the incident was related to the case of Druze teenager Tiran Fero, whose body was seized by Palestinian gunmen from a West Bank hospital after a car crash last week.
The snatching of Fero's body angered many members of the Druze community. Before the body was returned, thousands demonstrated in Fero's hometown Daliyat al-Karmel and at a protest march blocking off a major highway.
The three detained soldiers serve at the headquarters of a tank unit that is deployed in the Bethlehem area, where the home in a Palestinian village was targeted.
It was unclear why that specific home was singled out.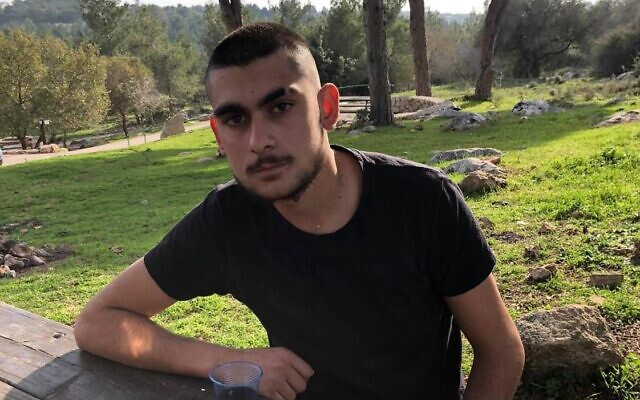 A Palestinian resident noticed the soldiers carrying out the alleged attack and reported them to the IDF, the Kan public broadcaster reported.
The soldiers were later arrested by military police.
Fero was critically injured in a car crash in Jenin last week and taken to a hospital in the Palestinian city. He died at the Ibn Sina hospital in Jenin, and later his body was snatched by unidentified gunmen, according to the IDF and Palestinian media reports.
Tiran's body was returned to Israel on Thursday, some 30 hours after being taken.
The body was handed over at the Salem Crossing near Jenin following intense negotiations between high-level governmental and security officials in Israel and the Palestinian Authority, reports said.
Mourners hold up a picture of Druze teenager Tiran Fero at his funeral in Daliyat al-Karmel, northern Israel, November 24, 2022. (Shir Torem/Flash90)
Israel had sought a diplomatic solution to the crisis but was also preparing for a military operation to retrieve the body, Hebrew media reports suggested.
His family has claimed that Palestinian gunmen detached him from life support and grabbed him from the hospital, while the military and a senior defense source indicated that the teen was already dead when he was taken.
The schoolboy was buried Thursday in his hometown of Daliyat al-Karmel. Thousands attended his funeral where his death was mourned as a "disaster."
Fero's uncle pleaded for peace in his nephew's eulogy. "We are a peaceful group," he said of the Druze minority in Israel. "I ask that everyone act peacefully after the funeral. There should be no more lives lost. Let us return to a quiet life."
On Saturday, an official Palestinian delegation visited the bereaved family in Daliyat al-Karmel. The condolence visit was headed by Mahmoud al-Habbash, an adviser on religious and Islamic affairs to Palestinian Authority President Mahmoud Abbas, according to a report by Kan news.
The Jenin area has been seen as a major hotspot for terror in recent months and the Palestinian Authority is believed to be losing control of the region.
Originally published in The Times of Israel