The Biden administration is weighing up whether to label Russia's Wagner Group as a foreign terrorist organisation, two people familiar with the matter said, as part of efforts to handicap the privately owned military company that has played a role in Russia's invasion of Ukraine.
The administration has made no final decision on the designation, said the people, who asked not to be identified discussing private deliberations.
Labelling Wagner a foreign terrorist organisation would allow the US to pursue criminal prosecution against the group and its members, as well as go after its assets around the globe.
The White House and State Department had no immediate comment. Kremlin spokesperson Dmitry Peskov didn't return a message seeking comment. Russia's government has denied any official connection to Wagner in the past.
Moving against Wagner would mark a new US effort to counter a group that has gained in prominence and power around the globe, especially since Russia invaded Ukraine, where its mercenaries have played a major role in the fighting. The Wagner Group also has a growing presence in Africa.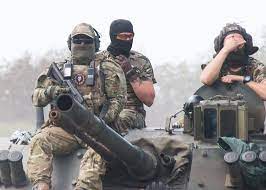 The Wagner Group is a nebulous network that combines military force with commercial and strategic interests and is seen as the vanguard of Russia's expanding ambitions in Africa.
Wagner fighters have been active in the wars of Mali, Central African Republic, Mozambique and Libya.
They ally with embattled leaders and militia commanders who can pay for their services in cash, or with lucrative mining concessions for precious minerals like gold, diamonds and uranium.
Wagner troops have faced frequent accusations of torture, civilian killings and other abuses.