Abduljabbar's profile below
An Upper Sharia Court in Kano has sentenced controversial Islamic cleric, Abduljabbar Nasiru Kabara, to death by hanging.
The court earlier convicted the embattled cleric after finding him guilty of the charge of blasphemy levelled against him.
The judge, in his sentencing, orders the state government to seize the two mosques belonging to Abduljabbar.
The judge also called on all media to desist from using any of Abduljabbar's teachings and pictures.
Before giving his verdict, the judge said, "I am convinced that the prosecution counsel has done their part and proven their points beyond a reasonable doubt."
He thereafter convicted the defendant of all the charges levelled against him.
Kabara was standing trial on the issue bordering on blasphemous statements against the Holy Prophet Muhammad (PBUH), an act capable of inciting public peace. Abduljabbar was charged in July 2021 by the Kano State government.
Until the Judge pronounced his last statement, embattled Abduljabbar, who appeared in the court for a final verdict in his 15-month-long trial, was calm as ever before, seated on a chair, relaxed, counting his rosary with his fingers (supplicating) and listening attentively.
Asked if he has anything to tell the court, Barrister Aminu Ado Abubakar, who stood as the defense counsel, prayed to the Court to accord leniency to the accused person for he did what he did out of ignorance.
However, Abduljabbar stood up stating that he did not know the lawyer and that it was the first time he was seeing him.
"I don't know him. This is the first time I am seeing him. He should not be allowed to speak on my behalf. I can and should be allowed to speak for myself," he said.
The judge however said the lawyer is recognised by the court as the defence counsel.
Abduljabbar continued, "My lord, after I heard how you twisted all my evidence, you turned around all my submissions upside down, you have assigned words to me that I have never uttered.
"Deliver your judgement, and I am not asking for leniency at all. I want all my followers to know that I will die a hero and I don't want you (the Judge) Ibrahim Sarki Yola to do me any favour or grant me leniency. This is my last word. Assalamu Alaikum."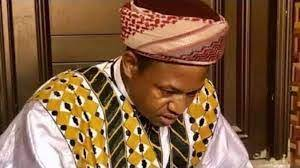 Meanwhile, the judge ordered for a 20 minutes recess before delivering his sentence.
Abduljabbar Nasiru Kabara is a 52-year-old Islamic cleric and a prominent scholar of the Qadiriyya Islamic sect, in Kano, Nigeria, who was accused of blasphemy towards Prophet Muhammad (PBUH).
He is the son of Sheikh Nasiru Kabara, a former leader of the Qadiriyya sect of West Africa, and a younger brother of Karibullah Nasiru Kabara, the successor of their late father.
He attended ATC Gwale in Kano, before moving to Iraq to advance his studies in Islamic theology, though he always said he obtained most of his education from his father for almost 25 years of his life.
Abduljabbar was well known as a Qadiriyya follower and a Sunni scholar by Muslims communities in Nigeria, following the footsteps of his father.
But in 2020 during an interview with the BBC, he expressed his inclination as a Shia sect adherent, saying: "After a thoroughly long time research which I have made by myself, I realized that Shi'a has more scriptural evidence over Sunni," adding that, "I will not bother myself if you call me a Shi'a, but I'll be concerned with calling me a Sunni."
Abduljabbar was accused several times of blasphemy towards Prophet Muhammad and some of the companions of the Prophet through his teachings and public utterances.
According to Abduljabbar, some hadiths (teachings of Prophet Muhammed) narrated by some prominent Islamic scholars such as Anas Ibn Malik, Bukhari and Muslim are in accusations towards Muhammad, which he (Abduljabbar), referring to them as either false or inaccurate.
Abduljabbar was held captive by Kano State Government after the Kano State Islamic scholars from Izala, Salafiyya, Tijaniyyah and Qadiriyya sects reported him to the state government.
They said they had come along "with nine blasphemy cases which were stated by Abduljabbar in his preaching towards Prophet Muhammed in video and audio formats, which will serve as a reference that Abduljabbar is making blasphemy towards Prophet Muhammed, and that if care is not taken, the blasphemy will lead to bloodshed and chaos in the State."
The Kano state government led by Governor Abdullahi Umar Ganduje decided to intervene in the matter by organizing a debate between Abduljabbar and his accusers, so he could get a chance to present his scriptural justification for what he preached.
On July 10, 2021, the government of Kano State officially organized the debate between him and four other Islamic scholars as representatives of Izala, Salafiyya, Tijjaniyya and Qadiriyya respectively.
The debate was chaired by Professor Salisu Shehu from Bayero University Kano, and supervised by the Kano State Ministry for Religious Affairs.
After the debate was concluded, the chairman of the debate, Professor Shehu declared that Abduljabbar did not answer a single question asked by the other scholars.
He said, "Abduljabbar dodged questions by giving irrelevant information or saying there's no time to make references from the over five hundred books he brought to the debate, although he has assistants to his aid, while the other scholars have given references and answers to Abduljabbar's questions directly."
On July 17, 2021, Abduljabbar was remanded in custody over pending allegation of blasphemy towards the Prophet.
Originally published in Daily Trust