In June 2012 as a reporter with THISDAY Newspaper, Global Upfront Newspapers' Editor at Large, Ike Abonyi, covered activities of terrorists that led to the bombing of  St. Theresa's Catholic Church, Madalla, in Niger State. This brought his closely with Reverend Father Isaac Achi the then Parish Priest. He gave him all he needed to know about the gory incidence. He had detailed interviews with  all the victims and the Priest. He wrote an unpublished book titled "The Madalla Martyrs: Christmas Day Bombing of Catholic Worshippers in Nigeria."
The book remained unpublished because Father Achi said he wanted to get permission from from his Bishop in Minna before he can do a foreword to the book. He was transferred out of Madalla and had served in various other parishes until the terrorists came for him again in the early hours of Sunday January 15, 2023 at Saint Peter and Paul Catholic Church in Kafin Koro Community in Paikoro Local Government Area of Niger State and shot him before burning him to ashes
We produce below the vantage interview with late Priest conducted in 2012.
Father Isaac Achi- Parish Priest in charge of St. Theresa Catholic Church Madalla. I want you to take your mind back to the last Christmas and before the day, did you have any premonition that is not usual of you?
Two or three days before the Christmas, the security agents in Madalla and Niger state called for a meeting, which they use to do, when there is any festival coming, and at that meeting we were all there, unfortunately, it was only a meeting for Christian leaders and they try to inform us about the security and that we should go about our normal business, and that we should tell our people that they are in position and they are in control. And then on Saturday, we all went for our programmes, what baffled me most was that during the period of our preparation, I met my towns people on the Christmas programmes cum New Year, I called my assistant Fr. Jato  to present to him the Christmas schedules and I remember in the planning, I put myself to serve the 6am mass on Christmas day. I usually serve the early mass for the sake of travelers so that they can continue with their journey. But when I called the young  man to give him the programme, what came out of my mouth was that, "father I would have loved you to do the day mass, but I will like to go back to the evening mass, so that you can take care of the day mass, and I said my reasons was that in the evening, children are always stubborn with knockouts, so you take care of the day mass while I will take care of the night mass, and any child who probably wants to prove himself stubborn I will be able to handle that. so we did that, the following day at the hour of 6 o'clock, he was already on the alter and I moved around to see some parishioners coming in and they were wishing me Happy Christmas, so I went there to pick my car and went to the nearest House Station for my visit (St Thomas).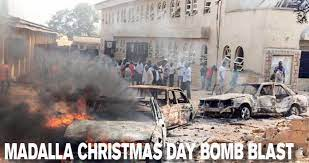 I left when they were at the responsorial Psalm time that means I was already late, and I got there. I always remember a word from my late Bishop Christopher Abba of blessed memory, shortly after our ordination 18 years ago, he said on a day of festival like this people don't want to listen or hear you say too much grammar, just go straight to the point because they are all thinking about their meals. So since then, on a day like Christmas I don't preach  for more than 5 minutes, and that day I saw myself doing what I was instructed to do by my father in faith. I finished the mass and at 8 o'clock on the dot, I started the announcement, but we had a distraction, some people were throwing knockouts and then the front of the church, another persons with motorbike was entering streets around, which I expected some members of the church to stand up and warn this people, but nobody moved, so I decided to calm down so during the sermon I told the parents to warn their children and anyone who know those throwing knockouts because on New Year day, I am going to be ready for them and I don't want anybody to come with a knockout. It was when I was making the announcement that I heard a sound of an explosion and it sounded  very heavy to the extent that the church where we were shook and the father's house under construction vibrated, so I finished the announcement and went to give the people final blessing, so I remembered the PRO wanted to give some more announcement and I jokingly told him that mine was more important that his and cautioned him not confuse the people. while I was cautioning him, the vice-chairman of the church council there ran to me and said Father, this sound that we heard now, it's like in your house  may be your attention is needed.
And I remember as I heard the sound, thoughts that came to my mind was my house, and then in the third instance I said if not my house, then Living Faith because the Living Faith church is a new church at the roadside, I remember they had problems with the emir while building it and they stopped the project for a couple of years and I think the Governor intervened and then from there were able to put the structure. From the time of the explosion, to the time I got there should be a 10-15 minutes interval, so on arrival I saw smoke, flames of fire and people who have come to block the road, they said there was no road, somebody there said to them he is the owner of the house, meanwhile I maneuvered my way and drove, there were smokes and flames everywhere, I really cannot remember how I managed to enter, so I parked outside, so coming out from the vehicle, in trying to cross the road, behold I saw a corpse lying between the gutter and the fence of the church, so I looked at it and blessed it, and people said to me Father Father, see another one here, only for me to turn inside the gutter and saw two people and I blessed them entering into the compound again, I saw copses of human beings and moved around to the other direction, I saw people lying on the main road and some were still inside the gutter I now walked into the house and coming out again, I was really helpless and behold leaders of the youths came and said Father what can we do, I had to calm them down and say hold on, there was need for me to say go into the streets and begin to fight. Shortly while I was there the police DPO one Mr. Nurudeen came to me and said please Father we saw what happened and he said please calm down, I said okay no problem, already he was the one who called us for meeting and if something like this happen and he is coming to console me, I should be ready to accept him.
Meanwhile, we couldn't sit. We were all standing there. Then, we went to meet the Army and as usual, they wanted to intimidate people that they should clear the road. And I remember saying before they would shoot anybody, they should shoot me first, that these people have the right to cry over their beloved ones that were killed so the people will not touch and neither should they touch anybody. So, from there, we stationed soldiers around and gradually we cleared the people from the field of the church. Shortly after that, the Road Safety, Civil Defense Corps, Red Cross and other support groups started coming in to evacuate the corpses. Meanwhile, as it happened, some passersby, some church members with vehicle, some were able to be wonderful by lifting some of the injured ones to local hospitals and some that could not be attended to were rushed to hospitals around Suleja and Abuja. So, this is what I can say happened on that day. There was no premonition outside. The security meeting we had which is even something we use to do always when there is a feast coming, either Muslim or Christian celebration, but as I said this one happened to be only the Christian Pastors that were called upon and were given the encouragement to go about our celebration and warning people about knockouts, and that was all.
So far, by now you should have the correct record, how many of your parishioners lost their lives?
When it happened the media arrived immediately. They were asking me to give them the record of those who were killed and injured and I remember I maintained my position that I do not have any record to give until we were able to  do the head count because during Christmas some people travel to celebrate with their family members so we have to find out who and who were away. So, it took us more than 5 to 6 days to get the record. Some people were mutilated. It took us 3 days to move around the compound of the church and pick pieces of human flesh. You may see something on the floor like a tissue paper and by the time you move it with a stick, you will discover it is human skull, some looks like stick and by the time you examine it you will discover that it is a finger of human being and something you would think is a rag is a part of human being. These were all the things that we saw and we were able to gather them and take some to the mortuary in Suleja General Hospital and we finished compiling all our lists. As I am talking to you (May 14th ascension day), about six months after, we have about 127 affected victims. And out of this number, we have 44 that lost their lives as a result of the explosion and 26 were members of the St. Theresa Catholic Church. The other 18 were passersbys and Karukabo and water truck peddlers 
 The priest of the Catholic Church is usually trained to face any challenges. This is obviously one of the challenges, but not a day like this.  How do you feel, that it happened that when you were supposed to be celebrating the birth of Christ, you founding yourself busy blessing the corpse of your own parishioners killed in cold blood?
It is a very sorrowful thing and a day I will never forget. I really felt bad and very sorrowful when people were celebrating, rejoicing, eating and drinking, dancing, people who left their homes, put off their generators and televisions, leaving their food to celebrate the birth of Christ were brunt to ashes. Because they had the heart to continue to serve God, some people couldn't even finish their food. The following day, they had to pack it and throw it into the bin. It is really a challenging day. But as a priest, when we go around to tell people "take heart," mourn with them, with what happened to me recently here in St Theresa's Catholic Church, I now come to understand the pains of losing someone that is so dear to you. There were people that I loved right into my heart. Even if it means I should die with them, no problem. and then coming to see them lying down helplessly, they couldn't talk to me, we couldn't recognize any of them, I wept. I had never cried, even when my father died about 23 years ago. All I did was to come and pray at his grave, I never dropped a tear because I didn't want the younger ones to see me drop tears. But this one, I couldn't control myself. I cried like a baby. But I didn't cry before my parish.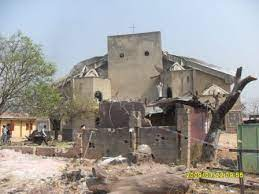 But I wept and I wept bitterly. Many people asked me whether I ask God why or insulted God. No. When I saw it, all I did was to look at the sky and say God you know why. I know the number of people that use to come to that church for 6 o'clock mass every Sunday, and then being Christmas day, knowing that some people traveled which I know definitely that even if the crowd wasn't enough, those coming should be about 2,000 to 3,000, and then at the end of the day we are having only this number of casualty, I think it is something to thank God for. That Rev. Sera of the Family Worship Centre in Abuja said to me that it was only one per cent that were taken. But I told her no, it is only a dot not even one, because they are not up to 50, or 100, so where you have 3,000 coming to worship apart from little children and you have 26 people affected, we should be very grateful to God.
 Looking at the reaction of Nigerians and International Community in this matter, what comes into mind?
The explosion wasn't the first, and after that we have had series of other ones, the international body felt concerned for this one probably because of the day it happened, being Christmas day. If I am not mistaking, the World War 1 ended on a Christmas day. Those fighting all dropped their arms and begin to sing the song, nowhere else, nowhere else, and nowhere else.. And then on Christmas day 2009,  a young Abdulmutallab wanted to blow up a aircraft and then 2011, Boko-Haram coming to attack the church. It is something very painful. That probably and again being a Catholic Church, because all these attacks they have been doing, killing people here and there, they have not faced a Catholic Church directly. And then with the cry they saw, an innocent person like me standing and crying out and people now felt we need to come and see ourselves what happened here. For me I cannot say what happened exactly, but I feel these few ones that I have enumerated should be able to attract so many and the way we were able to handle it. It is something that would have degenerated into a war in this country, seeing people on the ground and that the leadership on the ground was able to calm the situation.
We should appreciate what God used these persons to do because I strongly believe that if immediately these things happened, we entered into Madalla, to fight war that day, it would not have ended in Madalla. It would have extended to Suleja town and then extended to Abuja and before you know it, it would have gone to the East and maybe even far North. But we were able to say no, we are not for war, we are for peace because Christ talks about peace. He is the Prince of Peace and he talks of love. So, whatever it is, we should be able to preach peace and preach love  and that is what we feel Christmas is all about,  the birth of Jesus Christ who said he is the Prince of Peace.
When you were talking about people who left their homes on Christmas day to worship God and suddenly get killed, then you're preaching to their wives and people they left behind to embrace peace. How do you think they would feel?
 I know it is something very hard. You remember the scripture made us to understand that in every situation, we should give praise to God. Though when you are in pains and somebody is coming to tell you sorry, you will feel it was the person that did that thing. When you are in pains and somebody is coming to tell you to take heart, you begin to look around where is the heart for you to take, when you are in a situation of that of Christmas day bombing, when you wake up in the morning and go to church to serve God only for your father, husband or mother to be killed, or your children and you come back somebody is telling you to take heart, you don't really have the self control. But God has used many passages in the Bible and using Job as an example to tell us that he is in control. and that is the only way we console ourselves, nothing more than that and when we console ourselves we say yes they died and they are with Jesus. They went to pray in the Church and they died, so they are with Jesus. We cannot go and fight anybody.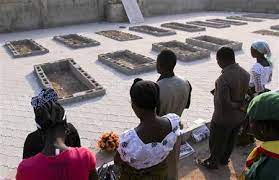 Somebody whose husband died and I went there to visit and the woman jumped and  held me on my collar and asked me where is my husband, where were you father and my husband died? And the same question I was asked where were you father that day that you allow this people to come and kill us. If you were there, they wouldn't have. Martha in the Bible asked Jesus the same question, if you were to be here, my brother Lazarus wouldn't have died. It is a very difficult question and the answer to it is just there in the scripture. The words of Jesus are the words of consolation, that is why we can tell people about peace. If we don't want to have peace, definitely we want war. By building war, we may not be able to control it and it may not bring us to that unity. So, we need to allow peace to reign and that is what the people of Madalla, St Theresa's particularly agreed to do. And that is why we are moving around, doing our normal businesses and are still law abiding citizens of this country.
   How has the situation affected the growth of faith in your parish?
 I am the one who told a family, borrowing from my own experience, I said that to the church again, when your father died and you say it is finished, it is definitely going to affect all of you. Whatever you want to do, you can't carry it on, it would not work because your hands will be shivering. And before you know it, it will drop. But when you lose somebody so dear to you and you look at the heaven, it is time to believe there is more greater thing, more hope is there waiting for you. I recall one  parish that was very small and the next house station was more established than the main parish, and then overnight only for them to be cut off from the main parish and then they gave them a priest  and they were saying what shall we do, it is finished for us. And I remember telling them no, everybody go and see what you can do, every member of the family should go out and see what he or she can do. Whatever you can get from there, bring it home and then the family will continue.
Definitely, there may be some misunderstanding in the family on the grounds of some people would not like to cooperate. I think it is the same thing with St. Theresa's. This thing shook the entire community, which affected the growth of the community. So many people, they are still in Madalla up till today but they have not come to the church. This is the 6th month now, some have relocated because they feel Madalla as a whole is not safe. It is a place where devil has gone to destroy and for that reason, they relocated to other places. But I said to them that there is no place that people don't die. Remember one of them who relocated out of the place, thank God she wasn't in the church on that day. After three weeks, the woman went to bed and she couldn't wake up. So, the bomb of 25th December 2011 being Christmas day have really brought a lot of setback, but I said to you, it depends on the leadership, I remember when this explosion took place, some of my colleagues told me to move out of the place before they would come and kill me, I said how can I move out of the place, after all they have killed my people.
I'm the one to run from death again, I should stay, let them come and kill me. and for your information the whole ceiling of that compound dropped as a result of this situation and everybody was busy  moving up and down trying to protect himself. There was nobody who was around to go in and tidy my room, I had to sleep there like that and I remember asking my assistant cant you go to a place and sleep and he said Father where I'm going, father Christopher said where I'm I going to I don't have anywhere to go, if you want to go, you can go. But I am not going anywhere and I said but your room is not tidy. He said I am even better that I am lying down in my room, what about people lying down in the mortuary. So, the two of us entered our room very untidy, slept like that and woke up the next day and I remember I woke up the next day and went for mass. Along the line, one young man came, Osita Imeri, came and rang the bell, the first, second and third time before we started seeing people coming one after the other.
But prior to that, I had a little encounter with the security because as I came out at 5:30am, the place was still a little bit dark. As I opened the gate I flashed the torch light even across the road, the security men who were there, the Police man flashed me back and I remember I used the same light that they saw me walking with it, to show that I was not an enemy. So, I went to the scene of the incident. I stood there and I was wondering and I remember a soldier man said  to me, "who's standing there" and I replied that I am the owner of the house, and he said again, "I don't care whoever you may be, you better come here, if you don't come, whatever happened to you blame yourself," and I said okay. I marched to him, he said I "don't you know you are not suppose to be standing there" and I said to him young man are you with your senses, I am the one who brought you here. if I don't want you here, I will send you packing. You were meant to provide security and not to intimidate people. Who do you think you are?
Some policemen who saw us gathered and said to him, "he is the owner of the house. When he came he flashed us light and we replied him with our own light and he came and stood here without saying a word to anybody. There is nothing wrong there." So, I saluted them and told them that my people are coming for mass, do not challenge them, allow them to come and I don't want to hear anybody complaining that he was threatened by any of you. And I called one of my parishioner who is a member of the Civil Defense Corps. I said go round and tell your Civil Defense men to be by the side of these soldier men and they should make sure that they don't stop anybody. And with that, I maintain and after the 3rd ringing of the bell, we started seeing people. It was a sorrowful thing.  I wanted to say a word, I couldn't hold myself. Words were not ready to come out of my mouth, so what I did was to end it up with a prayer and I went back and sat down. 
After the mass later in the day the Nuncio Augustine Kasujii, (Pope's Representative in Nigeria) and Archbishop of Abuja, John Onaiyekan, came around and we had another mass around 12noon. If I had ran away, probably it would have affected the church, not the whole town. But remaining there, building their faith, giving them encouragement, it is what is keeping the community to be alive today. Not that I have any magic, but as a Catholic priest, really Madalla is home to me, and in any situation I take all as my own, both Catholics and non-Catholics, both Christians and non-Christians. That is how my life has been in Madalla.
Father, if you see a Boko-Haram person who masterminded the bombing of your Church and killed and maimed your parishioners, what would you say to him?
Remember Pope John Paul II of blessed memory. After his visit to Nigeria in the year 1982, as he went back, there was an assassination attempt after which he demanded for whoever did it and from there he said he had forgiven the person. We learnt that the great Pope, every Christmas or Easter, apart from taking a cup of coffee with him on that day, every year he sent Easter and Christmas messages to him up till his death That is forgiveness,. In my own case truly, if the person should appear today, judgment should be left for God, punishment also should be left for God. If he comes today and says Father I am sorry, I am the one that sent this bomb, I killed your parishioners,
I will look at him twice and put my head down, the next thing is that I ask him why. And I will request him to repent. I have forgiven him. I have said it two days after the incident. I said I have forgiven whoever must have had a hand in it. I know the reactions I got. Some said I was too early to say such a word, that it would prevent the government from doing what they ought to do. I said no, I am doing it for the sake of peace to reign in this country. I got reactions from Muslims too, who are my friends. They say father, what you said we have not seen you to greet you we have heard you on BBC. They say, Father, may you live long for you to say you have forgiven those who did it. And that makes so many people to keep on coming and coming to really see.