By Yemi Monday
Supporters and members of the ruling All Progressives Congress (APC), in their hundreds, have deserted the Governorship candidate of the party in Bauchi State, Air Marshal Saddique Baba Abubakar (rtd). 
The APC members and supporters in his native Giade Local Government Area (LGA) declared that they left the party because they were convinced that Air Marshal Saddique Abubakar has nothing good to offer the people of the State. 
They therefore declared their unflinching support and loyalty to the Peoples Democratic Party (PDP) and all its candidates in the forthcoming general elections.
Spokesperson of the decampees, Umar Mohammed, said that though the Governorship candidate of the APC is claiming to have come from the area, there is nothing on the ground to point to as an evidence of his belonging to the area as he has no home to call his own.
He declared that majority of them from Giade LGA have decided to pitch their political tents with the PDP in order to ensure that the party won the election and continue its good works. 
While addressing the people particularly voters in Bauchi State, the PDP Campaign Council Director General (DG), Farouk Mustapha, declared that only enemies of the State would cast their votes for the APC Governorship candidate. 
Mustapha, who spoke at the country home of the APC Governorship candidate at the ongoing campaign tour to LGAs of the State, said: "We are here with our Governorship candidate, Senator Bala Mohammed Abdulkadir, other candidates of our party, our bases of campaign ranges from our Presidential candidate, Alhaji Atiku Abubakar down to House of Assembly candidates."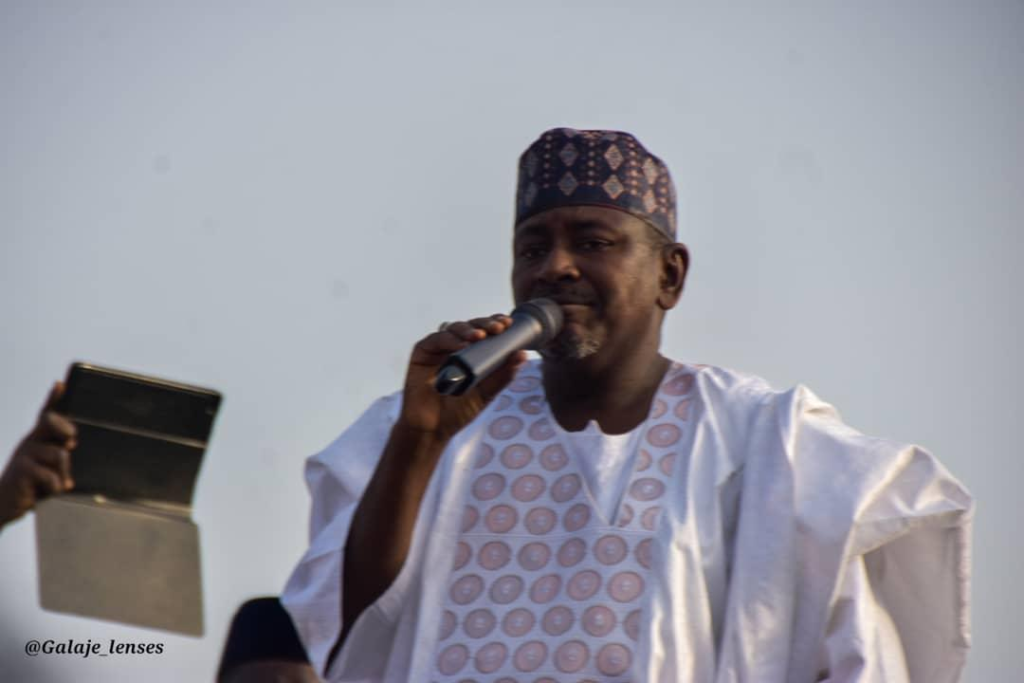 The DG who expressed gratitude to the people of Giade for voting the PDP in 2019, warned the electorates against voting the APC and other political parties.
Mustapha, who was a former Governorship aspirant under the APC in the State, said that despite receiving low votes in Giade in 2019, Governor Bala Mohammed has not neglected the people of the area on that ground but has treated them equally with other LGAs in terms of dividends of democracy distribution.
According to him: "We still appreciate what you did in 2019 because it was Bala Mohammed that won the election as predestined by Allah and he has treated each local government fairly without considering which one voted him most.
"I can tell you that today, even the enemy of Bala Mohammed knew that he has worked in Giade local government without regards to the low votes he received here in 2019, that is what is expected of a good leader, and I am assuring you that if you vote for PDP from top to bottom you will reap enough dividends of democracy from the Governor and Atiku Abubakar.
"Shine your eyes the people of Giade, don't listen to those whose interest is their pockets, let us all kick against such people and vote for our son, Governor Bala Mohammed who has performed creditably well. Anyone that is against the re-election bid of Kaura is your enemy, he is the enemy of Bauchi State."
Mustapha stated that Governor Bala's performance within three and half years is more than what some Governors have done in eight years.
He said that the Governorship candidate of the APC who is believed to be from Giade is not an indigene of the Local Government, adding: "I want to draw your attention to some issues. They have brought someone to claim that he is from  Giade, claiming that he is your son. But this is not true. It's just a cover up. He is not your son. Don't listen to them."
Mustapha said if the APC Governorship candidate was actually the son of Giade, he would have proved that by periodic visits for condolences over the death of some traditional leaders in the area.
"Is politics not all about friendship? Must someone wait until when it is election period before he start to claim indigeneship? No. He should have been visiting you for condolences. He should have been rejoicing with you during weddings and other joyous moments. This is how one should behave as a real indigene."
The Campaign DG said that of the entire years the APC Governorship candidate spent in the Nigerian Air Force (NAF), he has not deemed it fit to build a house in Giade until last year which has not even been completed to date.
"We know how he got the plot. It was someone that assisted him with it because he want to notice that he has assisted him. It is good that he gave him the plot of land but has the construction of the house reached its completion? Has he ever passed the night in Giade? Even we that are not from Giade have been sleeping in Giade. I myself Farouk Mustapha, I am more related to Giade people than him", the DG campaign said.
He said, of all the years he spent in the Air force and the number one position he held there, the APC Governorship candidate didn't employ a single person from Giade into the Nigerian Air force.