By Pharm. (Dr) Chike Ezeoke
I came home from the United States (U.S.) for the Yuletide celebrations. And quite unlike the previous years, the year 2022 was quite extraordinary. Unlike the usual celebratory air and retinue of events that accompanies this period of the year in all parts of Igboland, last year's was at best lackluster, lifeless and devoid of the usual celebratory mood that pervades the air all over South East Nigeria.
With the pervasive incidences of kidnapping, shooting by Unknown Gunmen and the actual kidnapping of an Umuchu-born businessman in his front gate after travelling all the way from Zaria, Kaduna State on December 23, 2022, the scenario was set for a "run for dear life." Those who would have ordinarily come home were too scared to move and they decided to remain whereever they resided while those who never planned to come home at all had the perfect excuse – "insecurity."
While living this circumstance-induced quiet Christmas in our pristine town Umuchu, my hometown, I had a reason to venture out and visit Enugu, capital of Enugu State on January 7, 2023. This experience left an indelible mark in my mind as I experienced firsthand the harrowing and painful experience our people go through on daily basis at various roadblocks mounted, both legally and illegally, on almost all the roads throughout the South East by security personnel and their allies.
First, these so called security persons comprise of the Police, Army, Customs, Federal Road Safety Corps (FRSC), revenue collectors ( both States and Local Government), local Vigilantes and of course, the daredevil miscreants who also mount road locks to extort money from their fellow Nigerians in the South East.
The most annoying thing is that these roadblocks are mounted back to back by each extortion group. In a journey of less than a mile one can meet up to three road blocks mounted by various groups.
A careful observation shows that these roadblocks exist only for one purpose – "extortion." They do not serve any meaningful security purpose as there have never been an indication that a hoodlum or wanted person was intercepted in any of them.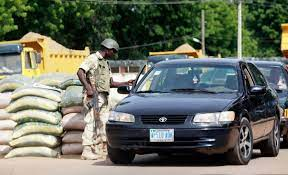 As a matter of fact, it's a known fact throughout the South East, most kidnappings happen within a short distance to some of these roadblocks. Considering the frequency of such incidences and proximity to the roadblocks, the local populace often insinuate that "the security personnel are part of the kidnapping syndicates."
I started my journey to Enugu in the early morning of January 7, 2023. And since all connecting roads are now no go areas because of incidents of attacks, kidnappings and other criminal acts, we had to make a detour to the Anambra State capital, Awka, through the old road to Ugwuoba, Oji River Local Government Area of Enugu State, before onward to Four Corner on the Enugu/Port Harcourt Expressway.
That's where hell started. Between Ugwuoba and Four Corner, there were more than 15 roadblocks and checkpoints, each manned by different security outfits. These checkpoints served, not for arrest and stop the agents of insecurity, but only used as a means of extorting the hapless, tired, browbeaten, intimidated, exploited and wary private commuters, commercial vehicle drivers, Keke drivers and of course Okada riders. Sometimes, for sport and or diversion, they also harass individuals who walk by.
We succeeded in getting to Enugu after an uneventful journey with brief stops at each roadblock cum checkpoint. After spending a few hours in Enugu and on completing my purpose for the visit, we decided to head back to Umuchu, using the same route. At Ugwuoba, just before crossing the river into Awka, we ran into the most annoying and inexcusable roadblock mounted by the Nigerian Army.
First, it was a narrow one lane and various items including tree trunks and cement bags filled with sand were used to obstruct traffic flow on both sides. At any given time, it was only a one directional traffic flow that was allowed to pass through.
This created a huge pile up stretching for miles on both sides of the road. Up to this point, our trip from Four Corner took us about one and half hours with a brief stop near Udi. But we were at this man-made traffic jam for more than three hours. It was hot on that particular day and we were stuck in this traffic jam, inhaling black smoke and fumes from long haulage vehicles that were also caught up in the jam.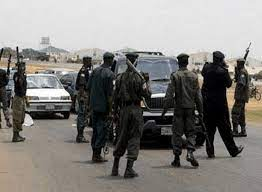 Since most trips in the South East are now made with nondescript beat down "jalopy" cars without air conditioner or any form of luxury (just to escape the attention of Unknown Gunmen and their allies), the ugly situation was overall made uglier. There I was sweating profusely under the merciless heat, made more uncomfortable by exhaust fumes due to an annoying and un-moving man-made traffic jam that had no reason to be in the first place.
It's unfortunate that this ugly roadblock situation has pervaded the whole of South East region. This abnormality seem to have become the accepted norm all over the region. And because our people are browbeaten into acquiescence and submission, these roadblocks/checkpoints has become the norm.
A fact checking trip into the hinterland of the South East exposes the same tale of woes, intimidation, extortion and exploitation of commuters by these so called security agents.
This pervasive atmosphere of occupation is the same in every nook and cranny of Igboland. On a trip to Umuahia, I travelled through Akokwa, Urualla, Dikenafai, Ntueke, Okwelle, Anara, Ehime Mbano etc. The checkpoints were all the same, back to back, by various groups, with money exchanging hands unabashedly between the intimidated commuters and the various security agents.
It's a common knowledge now that most security personnel now bribe their way to be posted to the South East as it is now a gateway to immediate acquisition of wealth. These so-called security agents set financial targets for themselves and do everything possible to meet them at the expense of the population they are supposed to protect.
It's time we ask those in authority to dismantle all these roadblocks in the South East. It's very obvious that they do not serve any meaningful security purpose except for extortion, harassment and intimidation of commuters.
The insecurity in the South East is not unique to the region. It pervades every other part of Nigeria. But that of the South East seem to have attracted the "sledge hammer and ant" type of response. Similar responses are not applicable in other regions, even those experiencing greater security challenges.
With the massive number of roadblocks in the South East, the region seems to be under occupation. This was reminiscent of 1970 when the war ended. The South East is not under any form of occupation. Not state of emergency has been declared and Police state is in force. So, it is not under any form of official siege/occupation. The war ended in 1970. But in Igboland, it seems like it never did.
Enough of these worrisome roadblocks and check points in the South East. There are more civilized and technologically driven ways of securing a people or a region. Imposing daily and extreme punishments isn't one of them.
Pharmacist (Dr) Chike Ezeoke is resident in USA