The Acting Head of Mission and Force Commander of the United Nations Interim Security Force for Abyei (UNISFA), Major General Benjamin Olufemi Sawyerr, has expressed appreciation for the selfless service and exemplary act of professionalism exhibited by two Nigerian Air Force (NAF) officers who just completed their tour of duty as Staff Officer and United Nations Military Observers (MILOB).
UNISFA is a United Nations peacekeeping force in Abyei, an area which is being contested between the Republic of Sudan and the Republic of South Sudan.
In his remarks delivered by the Special Assistant to the Acting Head of Mission, Brigadier General TJ Kareem (rtd), the Acting Head of Mission and Force Commander UNISFA described Wingg Commander Uche Agha (the Chief U5) and Squadron Leader Olakitan Petrin Fatokun (UNMO) as officers who gave selfless service to humanity and represent the symbol of military professionalism associated with the Nigerian Air Force and the Nigerian Military.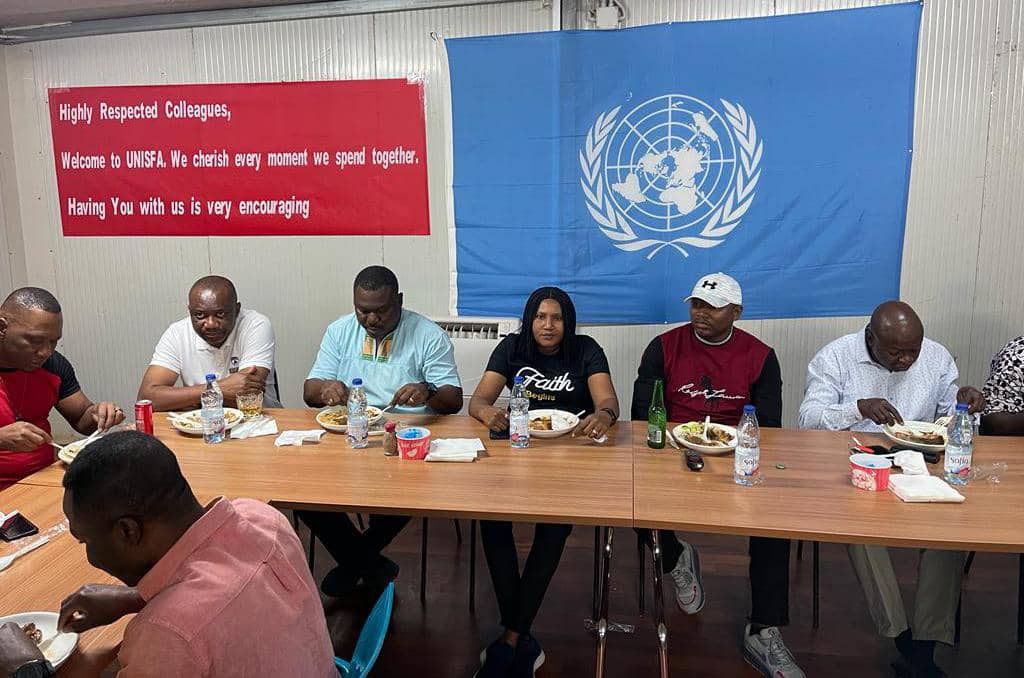 He stated that their exemplary service has shown why Nigeria will continue to be relevant in United Nations Peacekeeping efforts.
He praised the commitment of the Minister of Defence, Chief of Defence Staff, Chief of Army Staff, Chief of Naval Staff, Chief of Air Staff and Principal Staff Officers of the various Services in their efforts towards repositioning Nigeria back to UN Peacekeeping Operations.
The Acting Head of Mission presented the UNISFA Plaque and Gold Coin for Peace to the two deserving officers, stating that the Gold Coin is meant for only those who impacted positively to mandate implementation and served meritoriously.
Others recognized were Colonel Elie Bukuru of Burundi, the Force Chief of Staff and Wing Commander Bizeki Madzadzure, the Chief U-4 from Zimbabwe.