"Governing is about making tough decisions, but it's also about figuring out a better way to do things." — Mike DeWine
The G-5 Governors, a quasi-political bloc in the PDP a.k.a. Integrity Group, are at the point of making critical decisions that could make or mar the group's political fortunes. All its pettifoggery about which Presidential candidate to back up will soon end.
The five governors being propelled by the chatty chief executive of Rivers State, Barrister Nyesom Wike, appears to have reached a crossroads and are groping for direction.
Swimming in befuddlement, Governor Wike, the group's known financier and convener last week relinquished his leadership of the G-5 to Samuel Ortom, his Benue State counterpart in a desperate move to save the drooping house. In line with Wike's popular satirical music "As it, dey pain them, E dey sweet us," it is pretty difficult now to ascertain who owns the sweet or the pain between the group and their traducers. The group appears to be scoring their own goal in their faux pas.
Since July 2022, G-5 has dominated political conversation more for their noise than anything else as it set out to de-market the PDP flag bearer Atiku Abubakar. The party also mismanaged its opportunity playing into the hands of Governor Wike who apparently is licking his wounds of not harvesting from his numerous investments in the party. Rather than quickly do away with the obviously electoral liability and the haughty National Chairman Iyorchia Ayu, Atiku stubbornly thought he could win without Wike and company.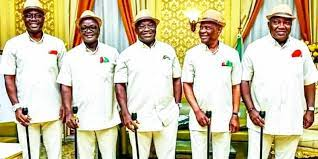 Atiku's initial braggadocio derives from two miscalculations: that with APC's same-faith ticket, he was home and dry both in the North and South and that Peter Obi was not going to pose any electoral threat since he had no structure, no governor, no legislators. But as time passed and Obi was making inroads with his messages, Atiku became unsettled and started fumbling, whipping up ethnic sentiments, telling the North not to vote for Yoruba or Igbo. Many discerning watchers on the political scene were stunned about barefaced ethnicism coming from such an experienced politician who had always enjoyed electoral support from the two ethnic groups he openly campaigned against. What he said was a fallout of pressure from the Wike group.
Governor Wike the obvious driver of the group determines direction the pendulum swings. The public was still awed at how he was able to recruit his colleagues to use his ambition to drive the group and change shapes like amoeba-like. Today he is in one form and the next day he is in another.
Before his shipwrecked presidential ambition, his goal was to clear anybody on his way. The first victim was his brother and then National Chairman, Prince Uche Secondus, whom he had thought he needed to take out and pave the way to the Aso Rock Villa. Most of those he used to achieve the ouster of Prince Secondus including but not limited to Atiku who looked away then are today licking their wounds. Wike's nuisance has remained as huge as his investment in the party which is indisputably higher than anyone else's since 2015.
In his 'holy anger' against a party that failed to appreciate his good deeds of life support for PDP when it had no oxygen, he has been running from pillar to post giving a clear picture of a desperado. The first was to destroy any chance of the South East being the beneficiary of the presidential ticket in 2023. To achieve that he had to hire the only two PDP governors from the region, Ifeanyi Ugwuanyi of Enugu State and Okezie Ikpeazu of Abia State, to help him. As a result, rather than fight for the PDP to zone the ticket to the South East which would have tallied with the national sentiment, they pushed the agenda of letting it come to the South first which was Wike's agenda.
Every political watcher knew that coming to the South means nothing more than coming to Wike. The national leadership of the party whose insincerity was apparent in favour of the North undermined anything going to Wike and the South East governors who could have fought for their region were already in Wike's spoiler team. Two frontline South East candidates, then former Senate President Anyim Pius Anyim and former Anambra State Governor Peter Obi were blatantly ignored by the party in their region.
Even national party positions allocated to the zone before the national convention to elect officers were imposed on the region by Governor Wike. The National Secretary position zoned to Anambra State was changed to Imo State without consulting South East leaders because Wike the godfather had no candidate from Anambra State. Wike even dared to come to Anambra during the campaigns for primaries to tell South East delegates not to waste their votes on their Peter Obi as he was going nowhere. He followed up the threat by using his installed national officers to ensure that political miscreants are empowered in Anambra State to abuse and incapacitate Obi. The motive was very clear to show that Obi, despite his popularity, has no political home front and is therefore ineligible to eye the president.
It was clear that nobody in the PDP leadership structure in the South East was working for anybody from the region, not even for Anyim or Obi the front runners. Obi who had gone around the country campaigning for the PDP ticket and enjoying support from other delegates always reminded him that his region's delegates were already bought and domiciled in Wike's armpit. The rest is history.
Obi saw tomorrow and ran away from the flirty politics of PDP but Anyim and some other pseudo-aspirants for Wike finished the race and got rejected by their people. Wike's opposition to the South East region fetched him votes instead of rejection from South East delegates. No thanks to petrodollars.
The same Wike who championed the South-for-presidency campaign, upon losing, quickly descended to vie for vice president, thus nailing the coffin of his southern president crusade. As he lost that VP position to his Delta State counterpart Ifeanyi Okowa, Governor Wike returned to his southern presidency advocacy which would have ended had he won the VP slot.
Today, the same Wike takes advantage of our gullibility as a people and positions himself as a great advocate of the Southern Presidency, a position he would have enjoyed decently if after losing the presidential ticket, he had rejected any offer of Vice President. Not for a desperate man. At a point in the controversy, the PDP flag bearer, playing to the gallery, challenged Wike that if he proved the position was zoned to the South East he would quit, Wike could not grab the challenge because that could foreclose his further ambition of President or Vice.
Obviously divided by interests, the G-5, members are now confused about where to pitch their tent. If the pendulum shows Atiku could win they tilt towards saying the window of reconciliation is not yet closed, if it's looking as if the structureless Obi is making waves they cavort with him. With renewed vigour around APC's Bola Tinubu, they are eyeing that way also. The truth is that four of the five governors are losing their immunity in five months and the heat of what is to come in terms of accountability is determining their direction. Their fear is real and it's already showing and influencing their moves. They are on a survivalist journey and no longer interested in what their people think or say; they just want a secure tomorrow.
It may look suicidal for the G-5 to be looking to endorse APC's Tinubu with all his baggage but they don't care so long as it guarantees them safe passage. Remember APC is the only political party you enter today and all your sins are forgiven. Who cares if Tinubu cannot be marketed in the South-South and South East, it's about the outgoing governors and their safe-landing aspirations.
Supporting Obi of the Labour Party is something they can do easily and enjoy a lot of political mileage from their people, but they are yet to be convinced that Obi is here to win and their soothsayer's projections are not confirming it. Interests within them are varied, Seyi Makinde of Oyo State who was unwise to follow those who had no second term challenge is under different pressure and works for Atiku while retaining his membership of the group in case Tinubu or Atiku wins before the gubernatorial poll. The two South East governors who are flying the ticket of the party for Senate are also doing hide and seek, Governor Sam Ortom of Benue State has not hidden his support for Obi's candidacy. Several attempts by G-5 to back one presidential candidate have failed because of divergent interests.
Except perhaps for Governor Makinde, the other G-5 members will have to cope with the heavy backlash of supporting a Tinubu or APC. This is the integrity quagmire in which the group finds itself. One man's ambition has dragged the other followers into a political quandary. Governor Wike who wielded enormous power using petrodollars, though he failed to realise any of his ambitions after such huge investments, is facing the heat of possibly having a good dribble but not scoring any goal to climax his efforts. If Wike failed in his dribbles, it must be because he failed to heed the advice of wise men that, to reach your destination you must not throw stones at every barking dog.
Since journalists are record-keepers, I am bringing this discourse for those joining the conversation now when Wike is creating a picture of a pro-Southern crusader. It has become necessary to properly guide the public to know that things would have been easier for the South East and the PDP if Wike had not played the ostrich for the rightful and deserving region.
I make bold to say that Wike may be a sagacious and a courageous political animal but he lacks the tactics to deliver his intentions. It's for the likes of Wike that Winston Churchill humorously defined tact as "the ability to tell someone to go to hell in such a way that he looks forward to the trip." But Nigerians are looking forward to the G-5 choice. God, help us.