Ukraine's Interior Minister was among at least 15 people killed on Wednesday morning when a helicopter crashed near a nursery outside Kyiv, Ukrainian officials said.
Officials said nine people on board the aircraft and six on the ground, including three children, were killed when the French-made Super Puma helicopter crashed in a residential area in the suburb of Brovary on the capital's eastern outskirts. Earlier, officials had given an initial death toll of 18.

The regional governor said 29 other people were injured, including 15 children.

President Volodymyr Zelenskyy called the crash a terrible tragedy, saying the full casualty toll was still being determined and he had ordered an investigation.

"As of this minute, three children died. The pain is unspeakable," he said in a statement.

At the scene, debris was scattered over a muddy playground and emergency workers milled about a fleet of ambulances.

In a courtyard lay several dead bodies wearing blue Interior Ministry uniforms and black boots, visible from under foil blankets draped over them. A large chunk of the aircraft had landed on a car, destroying it.

National Police chief Ihor Klymenko confirmed that Interior Minister Denys Monastyrskyi was killed alongside his first deputy, Yevheniy Yenin, and other ministry officials flying in the helicopter operated by the state emergency service.

Ukrainian officials said it was not immediately clear what had caused the helicopter to crash. There was no immediate comment from Russia, which invaded Ukraine last February, and Ukrainian officials made no reference to any Russian attack in the area at the time.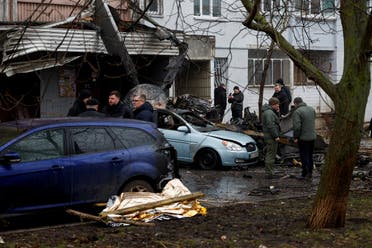 A dead body lies on the ground at the site where a helicopter fell on civil infrastructure buildings, amid Russia's attack on Ukraine, in the town of Brovary, outside Kyiv, Ukraine, on January 18, 2023. (Reuters)

"Unfortunately, the sky does not forgive mistakes, as pilots say, but it's really too early to talk about the causes," Air Force Spokesperson Yuriy Ihnat said, adding it could take at least several weeks to investigate the disaster.

Monastyrskyi, 42, a lawyer and lawmaker appointed in 2021 to run the ministry with responsibility for the police, was the most senior Ukrainian official to die since the war began.
Alarabiya News