Presidential candidate of the Labour Party, Mr. Peter Obi, has promised to reopen Nigeria's borders and fight insecurity if elected in the forthcoming elections, regretting that insecurity and bad governance have caused extreme hardship and poverty in the country.
Meanwhile, the Presidential candidate of the Peoples Democratic Party (PDP), Atiku Abubakar, says the All Progressives Congress (APC) government has brought down Nigeria, promising to carry every part of the country along if elected President next month.
The LP Presidential hopeful, who spoke in Katsina, home State of President Muhammadu Buhari, on Monday, assured that he would build a new Nigeria for all, and boost the socio-economic activities of Katsina state and the nation in general.
He said his running mate, Datti Baba Ahmed, and himself, have chosen to build a new Nigeria where security will be number one, adding "when we have security, we will open the border."
"Ours is to fight poverty, and we can't fight poverty without security and opening the borders, we will make sure we bring you out of poverty.
"There is insecurity in Katsina and Nigeria, we will fight the insecurity, and poverty and make sure people stop suffering.
"I know you always have government, but you will agree with me that you are always being deceived, especially by the people you have been fighting for. Now we are coming, and I'm begging you to go out and vote for us and you see a new Nigeria," Mr Obi noted.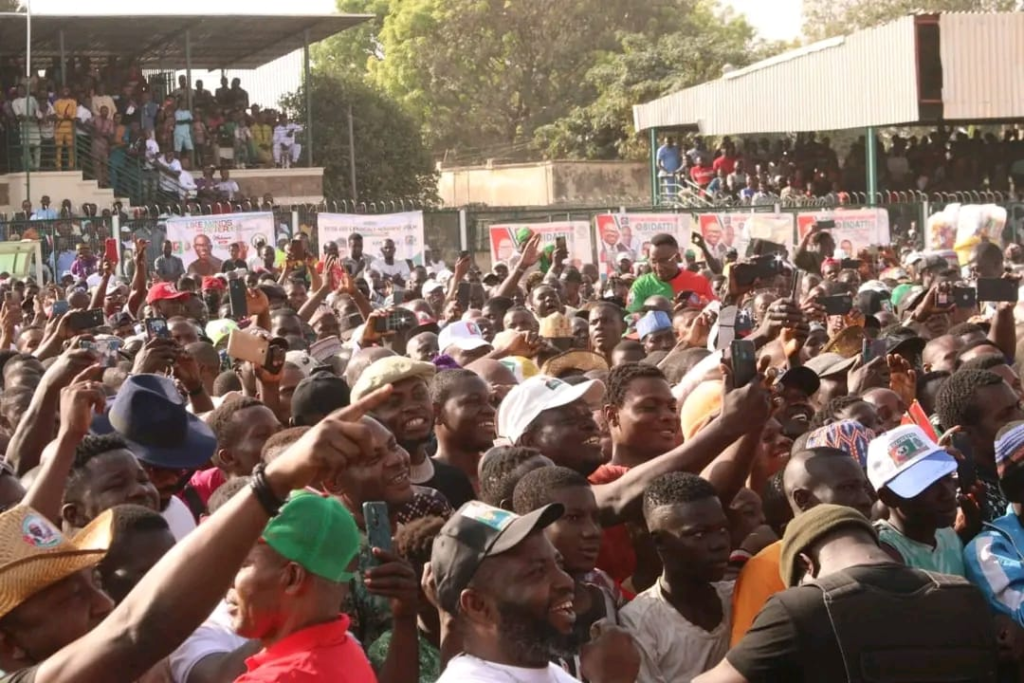 Atiku, who spoke at the PDP Presidential campaign rally in Yenagoa, the Bayelsa state Capital on Monday, Atiku who promised to implement his five key programmes, added that the country had never been this divided.
He promised that his administration would unify everyone to work for the development of the country.
The former vice president also told the supporters that he would restructure the country to end the clamour for restructuring across the country, saying that the Niger Delta needs restructuring of the country more than any other zone, as it would solve many of the challenges in the region.
Atiku said, "Don't make the mistake of leaving PDP. You have provided governors, a president and you are going to provide many more, so the future of Nigeria and Bayelsa is tied to PDP."
Atiku said he was committed to implementing his five key programmes, starting from the unification of the country, adding that, "The reason I want to unify the country is because we have never been this divided along a number of fautlines either North, South or Muslim and Christian.
"I am going to give every part of this country a sense of belonging in the next PDP government. I promise to tackle insecurity. Here in Bayelsa state, you have faced a number of security challenges, you have lost so many people, due to breach of law and order. I promise I will restore security in this country.
"I am going to tackle the economy of this country. If you recall, the PDP government between 1999 and 2015, we had the best economy in Africa, but the APC has pushed us back and brought us down. We promised that we are going to tackle the economy and make sure that we provide jobs and other opportunities for our young men and women to be gainfully employed either in the private sector or public sector.
"Again, we promised that we would never see any more ASUU strike, we would devote a lot of resources to education to make sure that our young men and women are educated and they continue to go to school without any interruption.
"We propose to restructure this country. You people in the Niger Delta need restructuring than any other part of this country, we would give you more resources and power to deal with your problems, you don't need to always beg the federal government for everything, when you are actually producing the resources of the country. So we will devolve more power and resources to you in the Niger Delta."